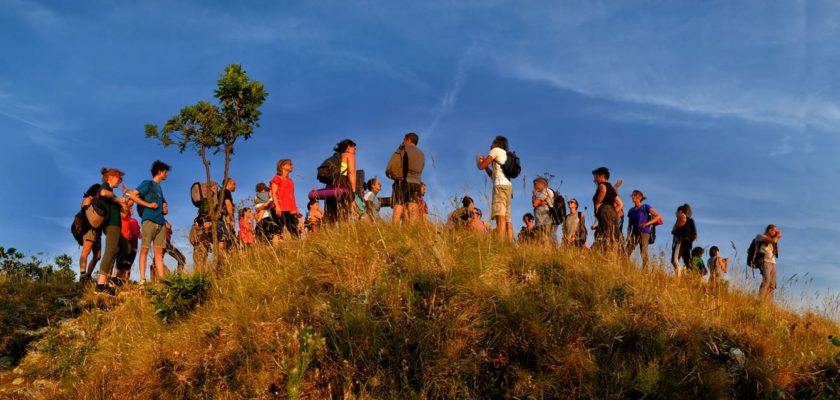 Participants' requirements:
To respect the departing time and the established program;
To accept any possible change of program, eventually decided by the guide on the basis of specific environmental and/or group conditions;
To be in good psychophysical condition, suitably clothed and equipped for the excursion. When in doubt, please do talk to your guide before enrolling;
To collaborate with your guide making things run smoothly and to promptly inform him of any relevant issue, especially concerning your psychophysical conditions or equipment;
To keep silence during the narrative moments, as an act of respect to the Story and those telling it or listening to it.
Each participant is personally responsible for any risky behavior (towards himself and others) especially when taking initiatives at his/her own discretion independently of the guide's opinion.
Statement of suitability
By accepting this regulation, participants responsibly declare to be in good health and suitable psychophysical condition for the excursion. They also declare to have provided the guide with any useful information for a correct evaluation of their suitability.
Mandatory equipment
"Layered" clothing suitable for the season and specific climatic conditions are recommended. The use of cotton in contact with the skin is not recommended. Wool or technical fabric are preferable.
Long-legged hiking trousers (light colors are best) are always preferable. Trekking boots with carved sole (in good condition). Waterproof jacket and/or rainproof poncho. Backpack. Packed lunch. A minimum 1,5 lt of personal supply of water.
On departing date, hikers showing up not properly equipped could be excluded from the excursion at the sole discretion of the guide.
Photographs and video shootings
Photographic and/or video material collected during the excursion may be used by the organization for promotional purposes on websites or public domain. Participation in the excursion implies authorization to publish it.
Mobile phones
Participants are kindly requested to keep their mobile phones turned off, or at least in mute mode, at all times. Should they absolutely have to use their phone, once authorized by their guide, they'll be invited to do so far from the group, always remaining in sight.
Recording GPS tracks
The use of GPS equipment is allowed for personal and informative purposes, though it is not relevant to the success of the excursion. All participants agree not to make any recorded track public.
Acceptance of the regulation
Participation to any of our events will imply unconditional acceptance of the above rules.